Araucaria (continuation)
Araucaria of Cook, Araucaria columnaris

tree of the family Araucariaceae

Conifer with persistent leaves. Leaves in sharp scales.
Origin: New Caledonia, News-Hebrides (photo taken in India, but of araucarias young people of Cook are planted arboretum, in Europe) there.
Habitat: the araucaria of Cook supports littoral zones, swept by spray, what explains the disappearance of the low branches, and confers on him this pace columnar narrower in the bottom, puffed out at the top.
Height: 30 m (unusually 60 m, in its original area).
Leaves: the young leaves are radial, pointed, of 1-1,5 cm; base decurrent wider. The old leaves are nested against each other.

Flowers: male catkins of 2-6 cm, in the axil of leaves.
Fruits: scaly cone, which attains 15 cm with maturity.

---
Other species:

Araucaria bidwillii,
native to Australia.
Araucaria angustifolia
("with narrow leaves"), native to South America. It is a small tree with leaves in tight scales.
Pine of Norfolk, Araucaria heterophylla
("with various leaves").
Copyright © 2011-2023PYL ·
European trees
Profitable reproduction forbidden without agreement of the author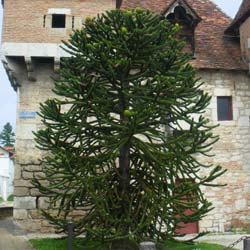 49,50 €
nursery Planfor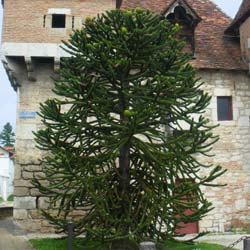 10,00 €
nursery Planfor