Catalpa Catalpa bignonioides
Etymology: "Catalpa" means "bean", in language Cherokee. The bignonia (Campsis radicans) is a climbing plant of America or of Asia, with flowers in the form of glove finger.
Origin: south of the United States.
Hardiness: zone 6 (it supports cold until -23 °C or -9 °F).
Height: 15-20 m.
Form (insulated tree): crown broad and rounded in dome, rather characteristic.
Bark shedding in flakes, pale reddish-brown.
Deciduous foliage: big leaves (30 cm long), disposed on branches in triple whorls (sometimes only opposite), cordate at the base and ending by a pruned tip. Their margin is entire or sometimes serrated in 2 lateral lobes; they have a long petiole and a bit hirsute lower face. They emit an unpleasant smell when they are crumpled.
Flower: see below. The fruit, ripe in September, resembles a long bean, same size as the leaf (30-40 cm). It opens in two, releasing the seeds the following spring. Seeds oblong wear white hairs on each end.
Where to see Catalpas in Paris? in the Flower market, island of the City. The Catalpa and the Royal Paulownia are alike because they have a big leaf. The following picture itemises difference between them:
Difference
Catalpa
Royal Paulownia
Flowers
white blotchy of reddish-browns-reds, upright panicles. Corolla tubular campanulée which opens in 5 lobes, 2 small on the top and bigger 3 on underside
In June-July, after leaves
violets, in panicles.
In May, before leaves
Buds and leaves
verticillate by 2 or 3, slightly brought forward *
opposite*
Leaves
of 30 cm long. They smell unpleasant when they are crumpled.
of 40 cm long
Top
glabrous
pubescent
Underside
pubescent
tomentose (very pubescent)
Fruits
30-40 cm pods
ovoid capsules of 4 cm.

* a mnemonic device to remember the difference: in "catalpa", there are 3 " a ", and it makes think of leaves of whorled by 3, while in "Paulownia", there is only 2 " a ", and its leaves are by 2 (opposite)!
Advice of pruning:
the Catalpa, tree with deciduous foliage, is pruned in winter (January / February). The pruning consists in removing some branches which would be in extra and to pull others down in 2/3 of their such a possible height on a bloatedness.
Do not forget the good practices of pruning (disinfection and puttying of the wound). The tar of Norway is recommended on the wound, because it prevents the spores of lignicoles mushrooms from entering inside the vital parts of the wood and from causing damage in the plant.
Illness: the leaves of my catalpa huddle up, dry out and fall. When growing, leaves are of a very clear green and sparse. These symptoms resemble chlorosis ie in the absence or lack of micronutrients. The remedy is to make contributions of organic matter at the foot of the tree (well-decomposed manure, sulphate of magnesia, ferrous chelates, boron to define with the help of a specialist).

Other variety:

Gold Catalpa

, (nice effect) of which the leaf is green-yellow.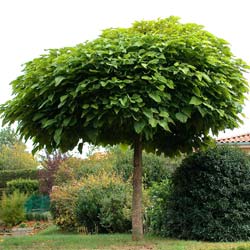 69,00 €
nursery Planfor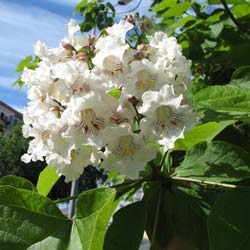 59,00 €
nursery Planfor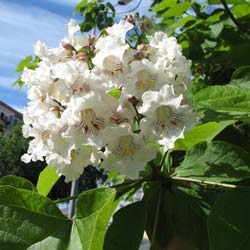 4,50 €
nursery Planfor